Step 1
Design Mock Up
After receiving information from customer we will design Home page.
Step 2
HTML & CSS
When customer approve Mock up, Designer will upload HTML & Css.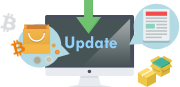 Step 3
Update product on website
Add product detail, add price, add product image. or Manage Website.

Step 4
Check and Edit
Please make sure your information are correct and complete before you sent it.